simple summer dinners on the
GRILL WITH OUR SPICY MARINADE
The holiday weekend was forecast as a scorcher here in Vermont, with temperatures soaring into the 90s and the humidity cranking up. Perfect time to make herby gin and tonics and fire up the grill for some outdoor lolling and feasting!
We gathered some fresh, local vegetables from a nearby farmstand, and grabbed a few ripe peaches and freshly picked strawberries for dessert. Cutting the spring onion, summer squash, peppers and firm tofu into chunks made it easy to put together a platter of colorful skewers, alternating the cut veggies with whole cherry tomatoes and cremini mushrooms, stems removed, for a variety of flavors and textures as well as some protein for the vegetarians.
While the grill was heating up we lightly brushed the skewers (shake up the bottle first so all of the spices and chocolate are mixed well) with our grilling sauce which we make in small batches during the summertime, or you can make your own at home with our recipe at the end of this post. Made with coconut oil, coffee, maple bourbon, infused vinegar, bittersweet chocolate and a melange of spices and chilis, the oil coats and protects the moisture in the veggies while they cook, and the little bit of sugar fuels the maillard reaction for a crust of caramelized, seared goodness that makes food cooked over a flame or hot coals so delicious.
Now is the time to brush salmon, swordfish or other seafood with some of our spicy sauce, just before popping it over the coals.
Fire up the grill!
Marinade your chicken or beef several hours before grilling by patting the cut of meat dry with a paper towel and placing it into a container. Give the jar of marinade sauce a good shake (make sure the cover is on tight!) and pour or spoon the marinade over the top of the meat, covering it with a thin layer so some pools around the bottom. Save some of the sauce aside for basting while you're grilling. Cover the meat and place it in the fridge for at least 2 hours before you plan to grill. The vinegar and salt in the marinade will begin to slightly tenderize the meat fibers, and the spices will meld with and flavor the meat, so the longer the better! When grilling, be sure to use a meat thermometer to check that your meat is cooked to whatever internal temperature is specified for each particular cut and kind.
Tofu can be marinated before grilling, as well. First, press any excess water out of the tofu so it will soak in more of the marinade. Take a block of firm tofu that has been drained, and place it in-between paper towels on a baking sheet or plate. Place another plate or a cutting board on top of it, and then put some weight on top (I use a small stack of cookbooks, but a few cans of beans, a cast iron pan or large pot works, too. You get the idea). Press for one to four hours, draining the moisture that collects in the bottom pan every half hour.
Place the tofu in a container with a tight fitting lid and pour some marinade over the top so a small amount pools on the bottom of the container. Let it marinade for at least one hour in the fridge, periodically giving it a gentle shake or a flip so it soaks in the marinade evenly.
Now, get cooking! Tofu can be sliced into steaks and grilled, or cut into cubes like we did for skewers.
We waited until our coals were good and hot, and then got into action.
Mmmmm, charred and blistery goodness. Once we removed the veggies from the grill and onto a plate, we brushed the skewers with more of the marinade/sauce and then served them right away while they were still hot.
Chilled rosé definitely did the trick with the veggies and salmon, and well into the dessert course! And these gorgeous sour beers by Vermont's Hermit Thrush Brewery drink like wine and paired well with the spiciness of the sauce, as well as the heavenly summer fruits and creamy vanilla ice cream we served later in the early evening.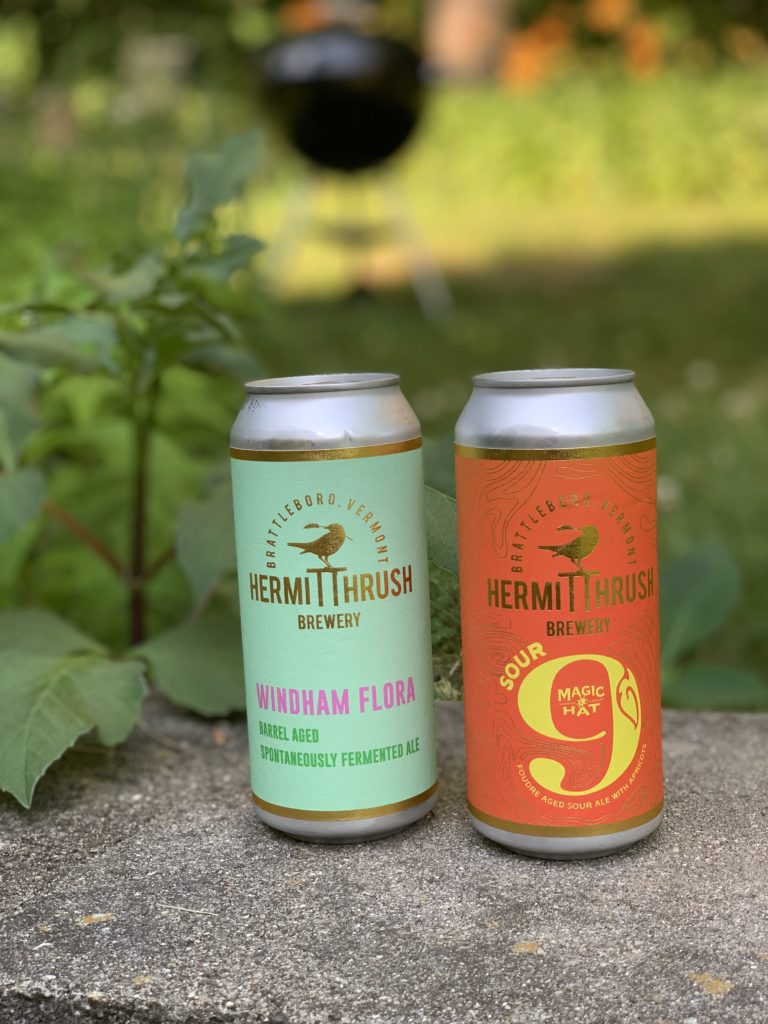 And now, time for dessert! Slicing a peach in half, removing the pit and giving it a brush of marinade sauce, we popped it skin-side up on the grill for a couple of minutes so it got meltingly browned and showed charred marks. We placed the grilled peaches while they were still warm over vanilla ice cream (we love Walpole Creamery's vanilla or sweet cream) and topped it off with a few fresh strawberries and a drizzle of the marinade.
Voila. Summertime, simple and sweet. And the remaining berries were pretty awesome dipped straight into the marinade.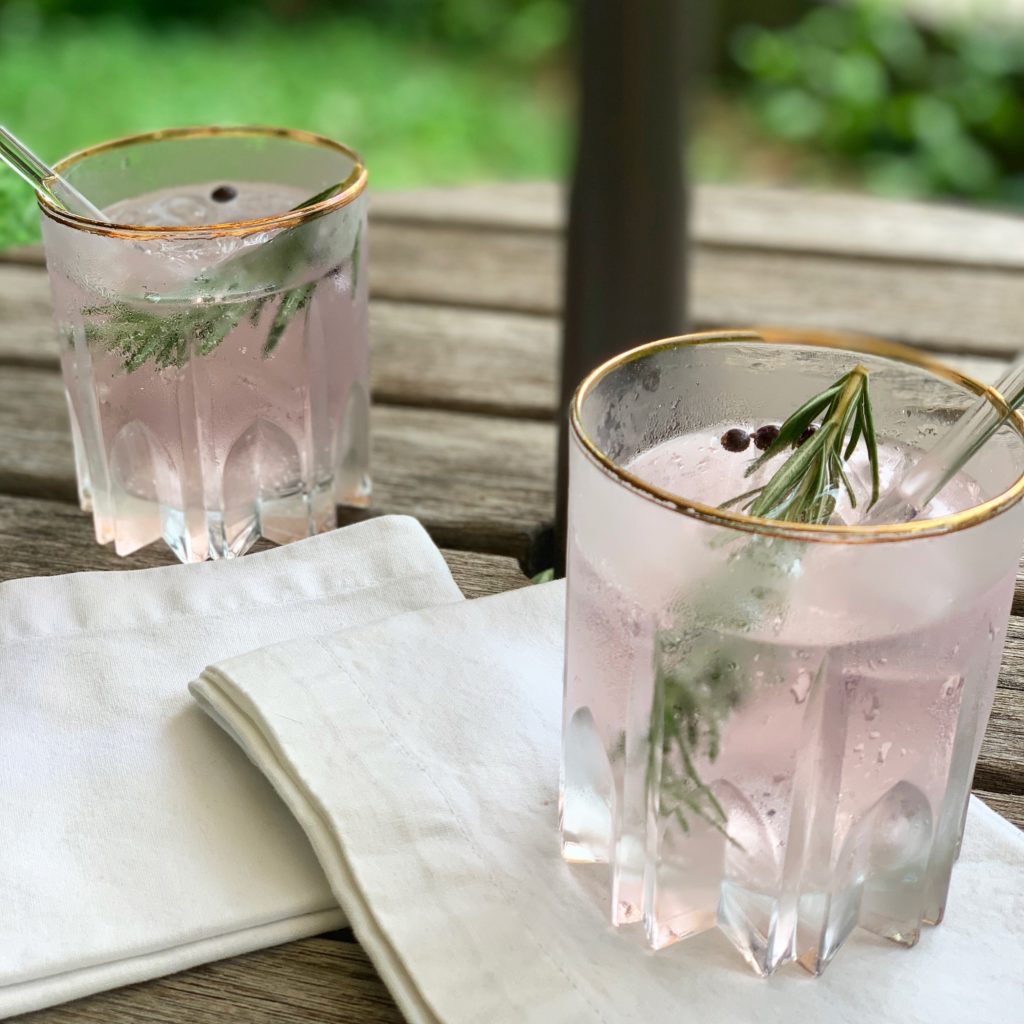 Cocktails before the fireflies came out and the fireworks began were Barr Hill Gin & Fever-tree Tonics (we use angostura flavor) with a freshly snipped piece of rosemary from our garden, juniper berries and a lot of ice made for a refreshing finish. Happy Summer!
Ingredients
3 Tbsp coconut oil
2 oz dark bittersweet chocolate, ground
3 Tbsp pomegranate molasses if you can't find pomegranate, substitute tamarind paste for a similar tangy flavor, or blackstrap molasses for a deeper, richer flavor
1/2 cup packed brown sugar
2 cups strong brewed coffee
3 Tbsp herbed vinegar
3 Tbsp honey
1 Tbsp each ground allspice, anise seed, cinnamon
1/2 tsp chili pepper more or less to taste
3 tsp kosher salt
2 Tbsp maple bourbon you can substitute regular bourbon
Method
On low heat, melt coconut oil, stirring constantly. Add chocolate to the melted coconut oil and allow to gently melt, stirring constantly.
Stir in remainder of ingredients, turn heat up to medium high and cook, stirring occasionally, about 10 minutes until slightly thicker and the sugar has melted and all of the ingredients have melded their flavors.
Let cool, then pour into a glass jar with a tight lid and store in the refrigerator.
Shake well before using. Will last a few months refrigerated.